Zeroplus LAP-C (16064)

Logic & Protocol Analyzer, 16 ch@64KBit, 100Hz-100MHz, USB Power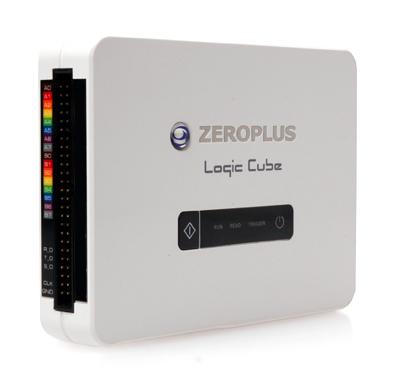 The Zeroplus LAP-C (16064) is a 16-Channel, PC-based Logic Analyzer that features powerful protocol analyzer capabilities. The standard package includes the UART, IIC, SPI, 7-Seg, 1-Wire, CAN2.0B, Microwire, SSI, Manchester, Miller, LCD1602, IRDA, DigitalLogic, 3-Wire, ArithmeticalLogic, UpDownCounter, USB1.1, JTAG2.0 & PS/2 Protocol Analyzer plug-ins. You will also receive printed instructions on how to activate the remaining protocol decoder plugins of your choice for free. This is the List of all available protocol decoder plugins.
The Zeroplus patented waveform compression technology increases the effective sample memory capacity far beyond the physical 1MBit. All 16 channels of the LAP-C (16064) can achieve a compression rate up to 256, depending on the data content, allowing you to obtain considerably more sampling data.
The logic analyzer connects to a PC via USB. It supports the full 480Mbps USB 2.0 speed, but also can use 12Mbps USB 1.1. The analyzer is powered directly from the USB.
Features
Model Type : PC Based Logic Analyzer
Operating systems : Microsoft Windows (2000/XP/Vista/Vista64/Win7-32/Win7-64)
Interface : USB2.0 (1.1)
Power : USB
Power Dissipation (running) : max. 2W
Sample rate : Internal clock (Timing Mode) 100Hz - 100MHz
Sample rate : External clock (State Mode) 100MHz
Bandwidth : 75MHz
Total Memory : 1MBit
Memory depth (per channel) : 64KBit
Memory depth with compression enabled : up to 16MBit (best case)
Trigger condition : pattern / Edge
Trigger channel : 16 channels
Pre/Post trigger
Threshold Voltages : Working range -6V~+6V
Threshold Voltages : Accurate rate -/+ 0.1V
Maximum input voltage : +/- 30V
Impedance : 500kOhms/10pF
Data Skew <1.5ns
Dimensions: 130 x 100 x 30mm
I2C, SPI, UART (RS232 & RS485) & 7-Segment protocol decoder plugins included
All available protocol decoder plugins of your choice for free
System Requirements
Microsoft Windows (2000/XP/Vista/Vista64/Win7-32/Win7-64)
300 MHz CPU or faster
256MB RAM or more
100MB available disk space
1 USB Port
Downloads
Package Contents
LAP-C (16064) logic analyzer unit
Protocol Analyzer software plug-ins for I2C, SPI, UART & 7-Segment
All available protocol decoder plugins of your choice for free
USB cable
Two 8-channel signal connectors
One 2-channel signal connector
One single-channel signal connector
20 test hook grips in 10 different colors
Software CD-ROM
Printed User Manual

The included signal connector cables are 25cm in length. A 40cm cable package is available separately: Contact


back