Zeroplus LAP-B(702000)X

Logic & Protocol Analyzer, 70ch @2MBit, up to 1000MHz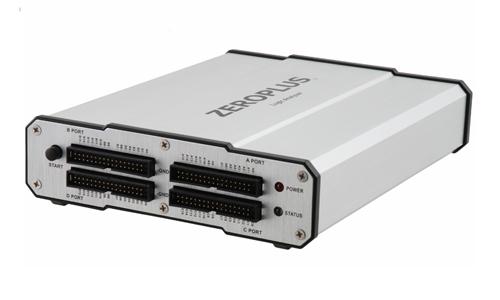 The Zeroplus LAP-B (702000)X PC-based logic analyzer features powerful protocol analyzer capabilities. The standard package includes all available protocol analyzer plug-ins (More than 75, eg. I2C, UART, SPI, 1-Wire, HDQ, CAN, IIS, PS/2, LIN, Microwire, SSI, Manchester, Miller, PCI, USB and many more).
The Zeroplus patented waveform compression technology increases the effective sample memory capacity far beyond the physical 140Mbit. Depending on the sampled data, the compression ratio can go up to 4G (4'000'000'000). This allows you to obtain considerably more sampling data.
The logic analyzer connects to a PC via USB. It supports the full 480Mbps USB 2.0 speed, but also can use 12Mbps USB 1.1. The analyzer has a build in 100-240V Power Supply
Features
Model Type : PC Based Logic Analyzer
Operating systems : Windows (2000/XP/Vista)
Interface : USB2.0 (1.1)
Power : AC 110/230V
Power Dissipation (running) : max. 10W
Power Dissipation (standby) : max. 5W
70-Channel Mode: The highest Sampling Frequency is 333MHz, the available channels are 70ch and the RAM Size is 2M
32-Channel Mode: The highest Sampling Frequency is 500MHz, the available channels are 32ch and the RAM Size is 4M
16-Channel Mode: The highest Sampling Frequency is 1GHz, the available channels are 16ch and the RAM Size is 8M
External Clock(State)( Synchronous): 150MHz max.
Bandwidth : 200MHz
Total Memory : 140MBit
Trigger Condition : Pattern/Edge/Pulse Width/AND/OR
Trigger Channels : 64CH/32CH/16CH
Pre/Post trigger
Binary/Decimal/Hex display formats provided
Flexible signal trigger options (rising edge, falling edge, either edge, high and low)
Threshold Voltages : Working range -6V~+6V
Threshold Voltages : Accurate rate -/+ 0.1V
Maximum input voltage : +/- 30V
Impedance : 500kOhms/10pF
Data Skew <1.5ns
Dimensions: 250mm * 170mm * 47mm
All available Protocoll Decoers are included



System Requirements
Microsoft Windows 2000 Pro SP4, XP, or Vista
300 MHz CPU or faster
256MB RAM or more
100MB available disk space
1 USB Port
Downloads
Package Contents
LAP-B (702000)X logic analyzer
All available Protocoll Analyzer software plug-ins (More than 100, eg. I2C, UART, SPI, 1-Wire, HDQ, CAN, IIS, PS/2, LIN, Microwire, SSI, Manchester, Miller, PCI, USB and much more)
USB cable
4 1-channel signal connectors
4 2-channel signal connectors
8 8-channel signal connectors
72 test hook grips in 10 different colors
Software CD-ROM or USB-Key
Printed Getting Started Guide